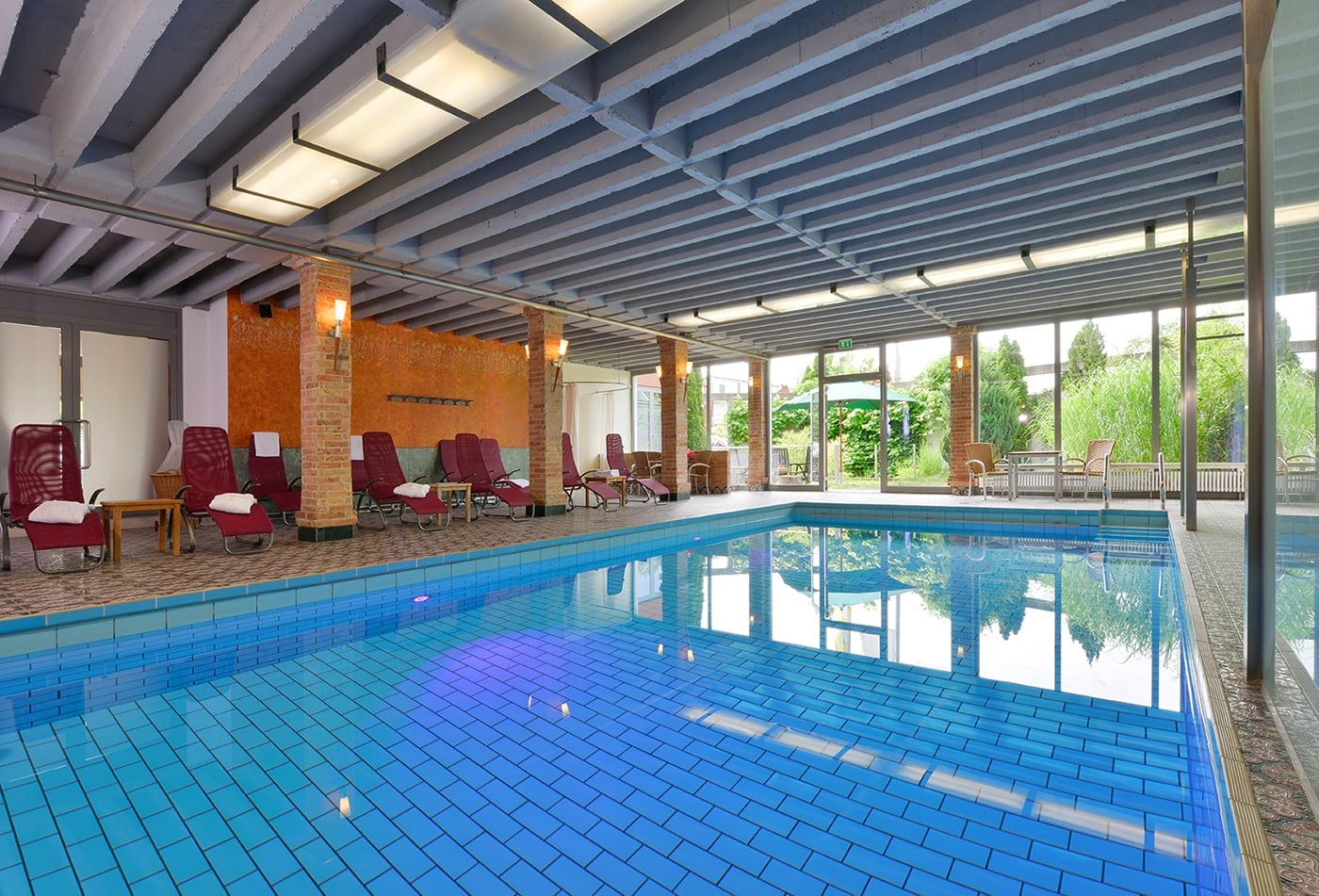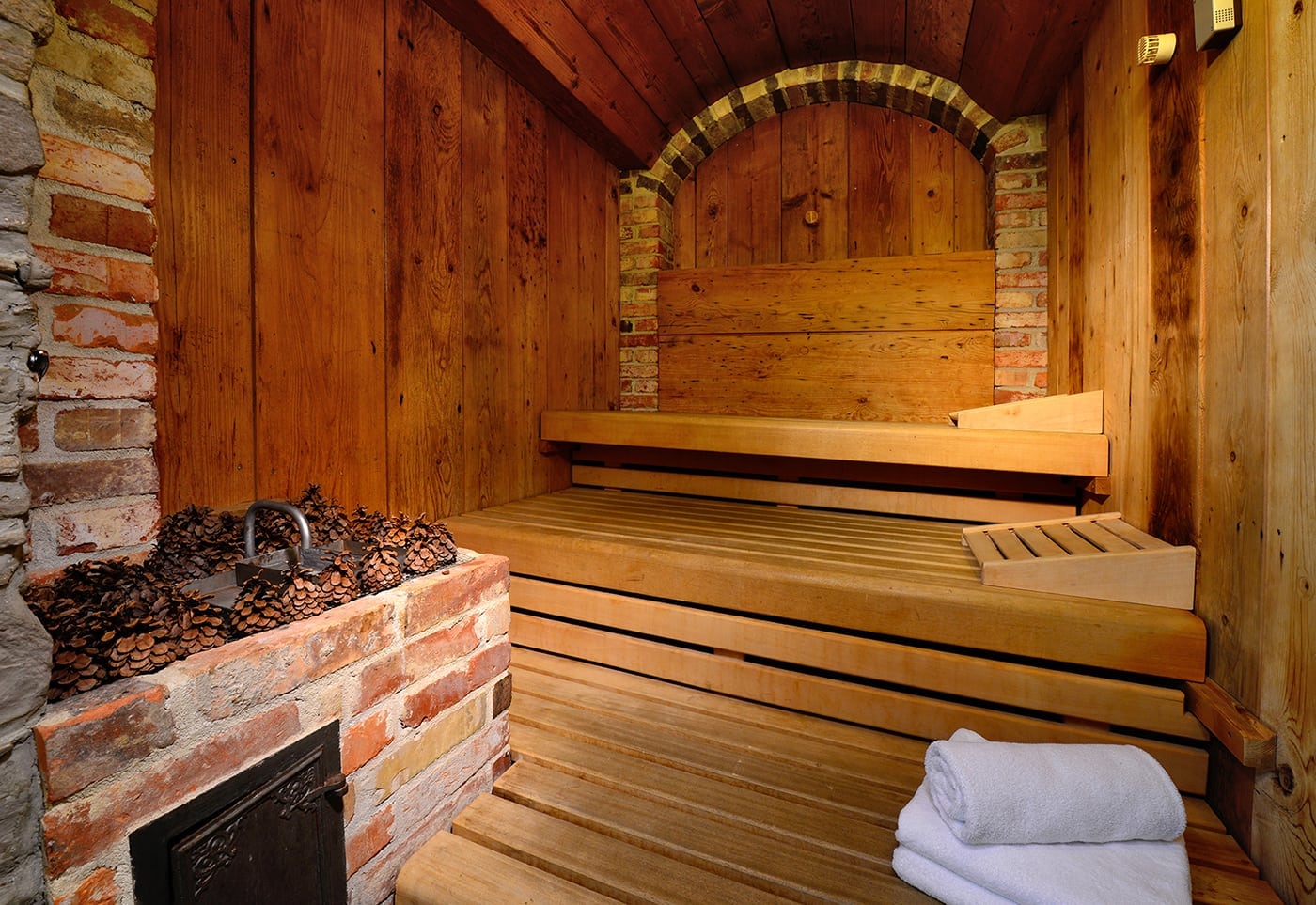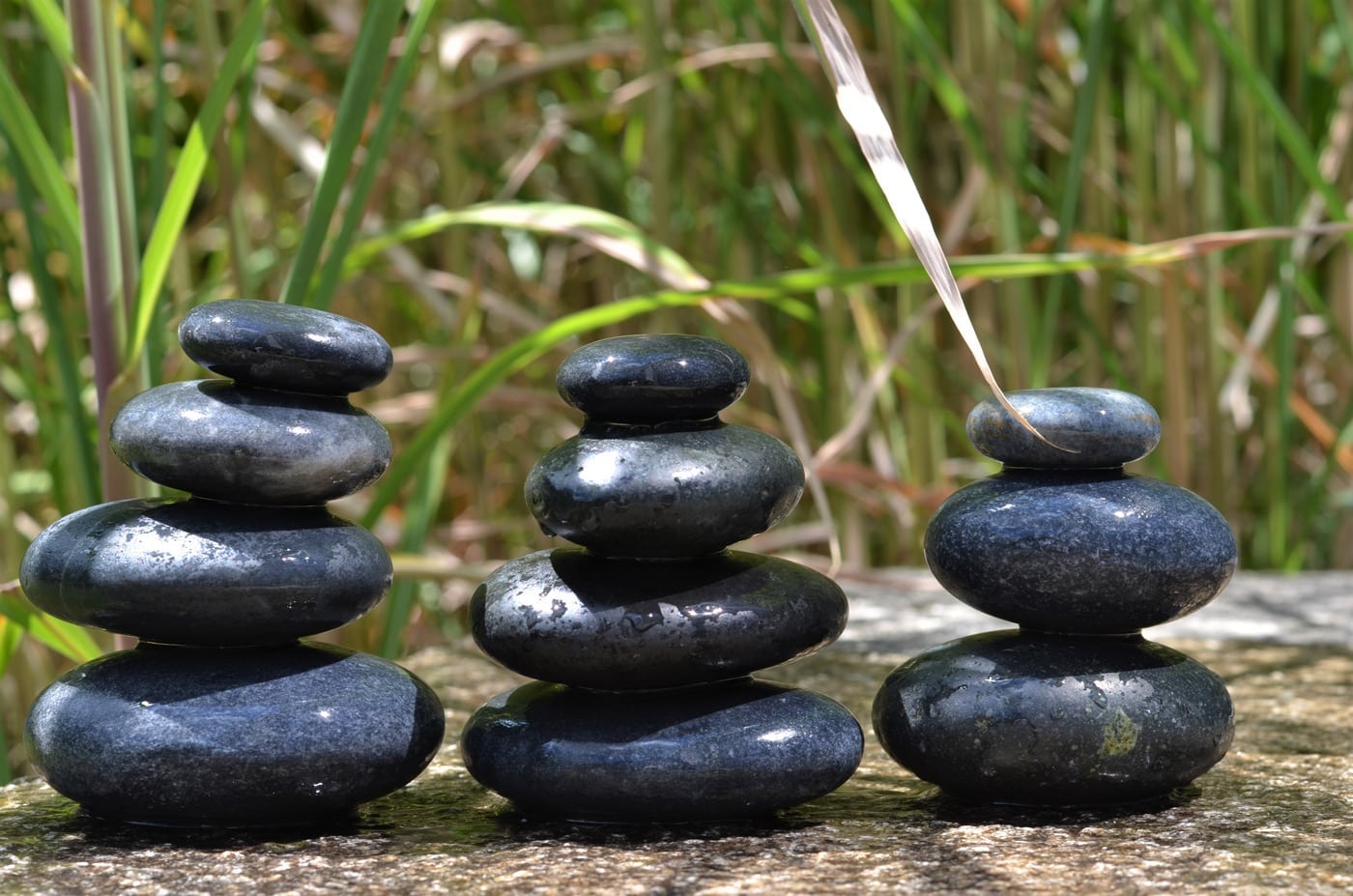 Our spa Palaestra is a real gem. Its sole purpose is for you to be as relaxed as possible. There's also a lot to discover – be it little angels, antique clay plaques or wall paintings, you won't get bored here.
On 500 square meters the Palaestra offers you relaxation, rest and a lot of amusement! Four saunas are at your disposal. Of course, the traditional Finnish sauna cannot be omitted – in our hemlock spruce-paneled cabin you can sweat at a cozy 90°C. If that's too hot for you, you may relax in our three scent tecaldarium at 45°C. After that, maybe try our aquamarine steam bath or perhaps our organic arched sauna? To cool off, take a swim in our diving pool or have a walk through our Kneipp water-treading basin. Don't be afraid to venture outside, either – take a few steps up and you'll find our relaxation garden. You can also relax beautifully in our knight's hall.
If you like to work your body before relaxing, take a few steps up to our indoor pool, where you can absolve a few laps. Or take a detour to our fitness room, where you can train your muscles and improve your endurance on a treadmill, a stepper, by weightlifting or with our rowing machine.
Our spa area is open daily from 5pm to 9pm. The indoor pool already opens its gates at 7am. Please consider: Children under 12 years are not permitted in the nude area. Teenagers below 18 years may enter the nude area only in company of a legal guardian. Of course our indoor pool is open to all ages.
By the way: Our pool's water filtering technology is environmentally friendly and not harmful to your health. That means that rather than chlorinating our water, it flows through a filtering station filled with regeneration salt, which eliminates chlorine smell and subsequent red eyes. Our pool water has the quality of drinking water!
Of course, wellness enthusiasts who are not house guests can also use our Palaestra. The daily price of 20.21 euros – 5 pm to 9 pm – already includes sauna towels and a bathrobe. You can also use the swimming pool: from 7 am to 5 pm incl. Finnish sauna 12 euros, only swimming 6 euros. Please note: the 2G rule applies to non-hotel guests. Please reserve in advance!
In our Palaestra it isn't possible just to sweat, splashing and rest – you can also pamper yourself. Whether manicure, facials or massages with hot stones – sit back and enjoy. For appointments please feel free to call directly our Mrs. Lenz under 0821 / 495949. If you like our reception also makes an appointment for you. Please let us or Mrs. Lenz know if you want to have a massage or a beauty treatment when you are booking your room. Our massage and cosmetics expert is not available during the whole day.
Do you need a bit of relaxation? Or you need a gift for a loved one but maybe a bitstressed people? Vouchers for our spa days you get at the recepiton at the hotel Alpenhof – against a bank transfer also by mail. Because of the appointment for your relaxtion day please talk directly to Ms. Lenz – on the phone number: 0821/495949.
We wish you a relaxing day!