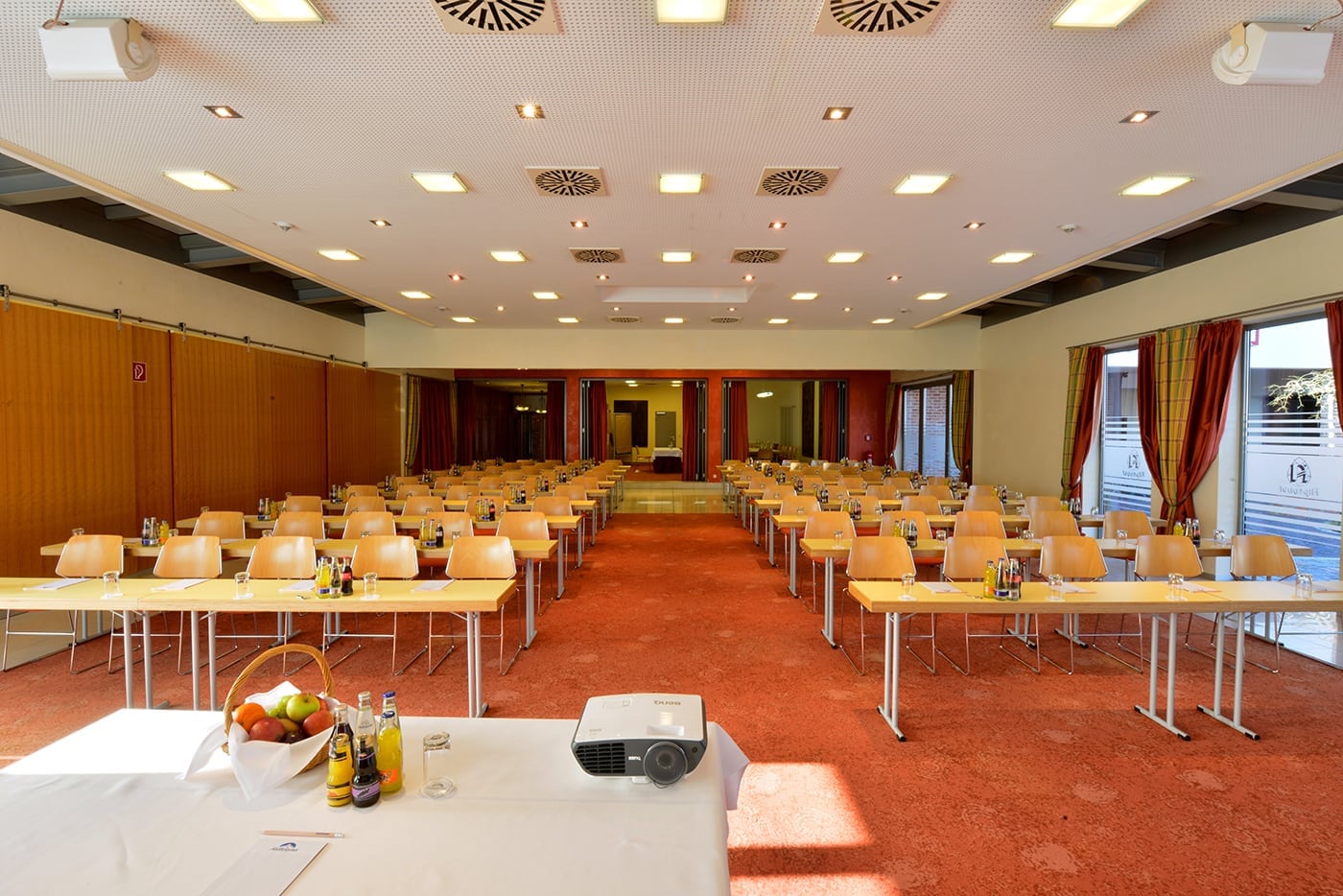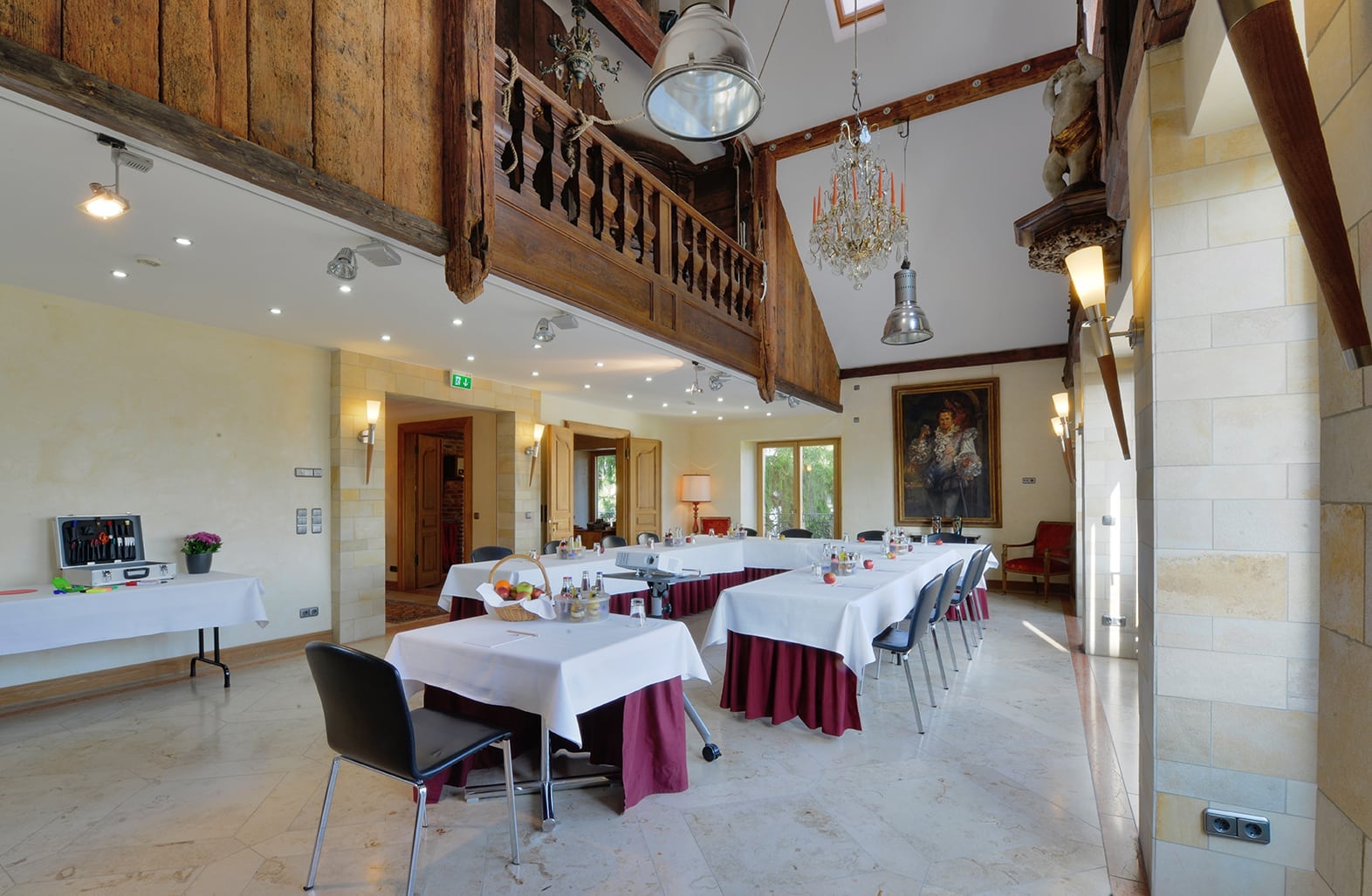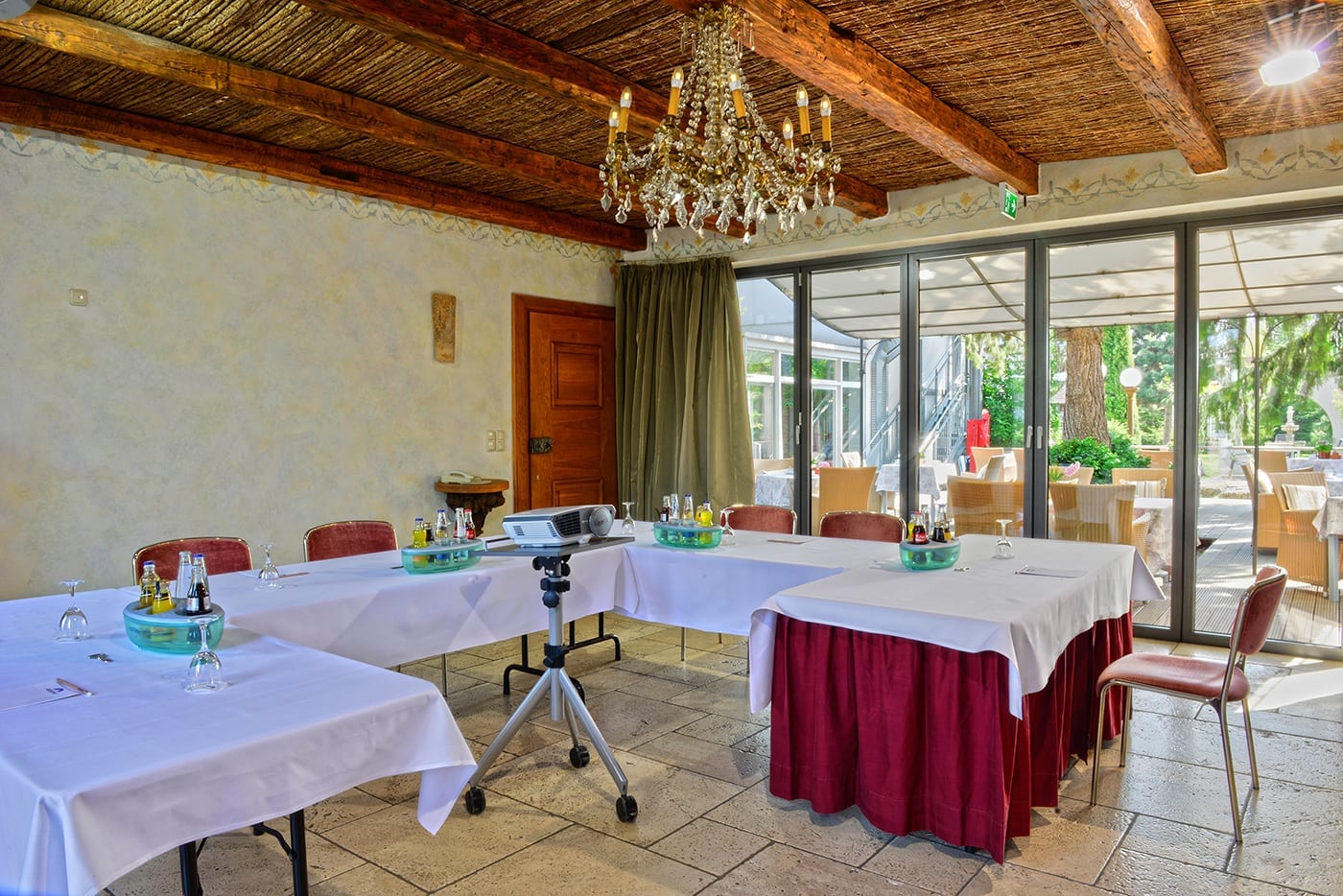 Want to teach or get taught in an extraordinary atmosphere? Our Eventpalais, built specifically for seminars, conferences and exhibitions, makes it possible. For us, that means: cutting-edge technology in our typical patchwork style – old meets new. Our Palais has 3 rooms plus 1 apartment and is designed to be self-sufficient, making it perfect for seminars that need plenty of space, silence and access to the outdoors. In total, we house 16 conference rooms – with capacity ranging from 10 to 200 people. Whether you need room for automobile presentations, sales exhibitions or just teaching in a quiet and relaxed atmosphere – we've got you covered. On top of that, we provide a lightning fast glass fiber internet connection, state-of-the-art conference technology and plenty of daylight in every room.

DB event ticket
Brand new, we can recommend the DB event ticket. We have teamed up with Deutsche Bahn to advance sustainable travel. To give you, our guests, the opportunity to travel by train in an environmentally friendly way, for a good price. And: you will arrive to your conference relaxed.. All you need is the following link:
Here you will find all bookable Deutsche Bahn offers, from the low-priced saver fare with a specific train to the flex fare, which allows you to travel freely. You will also find out everything you need to know about seat reservations, vouchers and insurance.
Singold
Gartensalon
Augusta Salon
Zirbelstube
Aloisius
Fürstenzimmer
Orangerie
Atelier
| Raum | max. Pers. | Grösse | Höhe | Länge | Breite | Parlamentarisch | Kino | Block |
| --- | --- | --- | --- | --- | --- | --- | --- | --- |
| Mozart I | 40 | 45 qm | 3,10 m | 7,80 m | 5,80 m | | 40 | 20 |
| Mozart II | 40 | 54 qm | 3,10 m | 5,10 m | 10,50 m | | 40 | 24 |
| Singold | 10 | 18 qm | 2,60 m | 5,50 m | 3,30 m | | | 10 |
| Lech | 60 | 92 qm | 2,75 m | 7,30 m | 12,80 m | 40 | 60 | 24 |
| Wertach | 60 | 77 qm | 2,75 m | 9,00 m | 7,50 m | 40 | 60 | 30 |
| Augusta Salon | 24 | 30 qm | 2,60 m | 9,00 m | 3,40 m | 18 | 24 | 20 |
| Karl Valentin | 180 | 140 qm | 3,30 m | 13,00 m | 11,00 m | 100 | 180 | 48 |
| Liesl Karlstadt | 40 | 45 qm | 3,90 m | 6,50 m | 7,00 m | 18 | 40 | 16 |
| Zirbelstube | 20 | 21 qm | 2,80 m | 7,00 m | 3,00 m | | | |
| Aloisius | 30 | 40 qm | 3,50 m | 6,80 m | 5,60 m | 18 | 30 | 14 |
| Bibliothek | 50 | 66 qm | 2,80 m | 10,50 m | 6,20 m | 50 | 30 | 20 |
| Fürstenzimmer | 8 | 45 qm | 3,50 m | | | 8 | 8 | |
| Orangerie | 20 | 38 qm | 2,70 m | 6,20 m | 6,20 m | 12 | 20 | 12 |
| | | | | | | | | |
| Atelier | 49 | 55 qm | 2,10 m | 10,00 m | 5,50 m | 24 | 49 | 20 |
| Gartensalon | 8 | 13 qm | 2,70 m | 4,80 m | 2,80 m | | | 8 |
| Wertach/Lech | 120 | 160 qm | 2,75 m | | | 90 | 120 | 46 |
Providing a plenum according to the number of participants
Individual support of your meeting
Audio-visual equipment: 1 LCD projector, 1 flip chart, 1 screen, 1 whiteboard, penciles, writing pad, standard Wifi
Morning break with coffee and tee, pastries and apples
Lunch: 3 course menu (depending on the total number of guests as buffet) incl. a 0.4 l beverage per person
Afternoon break with coffee and tee, pastries and apples
Large meeting beverages (minteral water and juice) on a separate table
Free parking for all attendees
on request

Half day offer
(from 8.00 a.m. to 12.00 midday or 01.30 p.m. to 05.30 p.m.)
Providing a plenum according to the number of participants
Individual support of your meeting
Audio-visual equipment: 1 LCD projector, 1 flip chart, 1 screen, 1 whiteboard, penciles, writing pad, standard Wifi
Morning or afternoon break with coffee and tee, pastries and apples
Lunch or dinner: 3 course menu (depending on the total number of guests as buffet) incl. a 0.4 l beverage per person
Large meeting beverages (minteral water and juice) on a separate table
Free parking for all attendees
on request

Please enlarge your meeting offer by another selection criteria
Coffee non stop (welcome coffee at the beginning, coffee till meeting end)
Enlarge your package to another juice
Enlarge your package to another lemonade (Coca Cola, Fanta or similar)
One more break with coffee or tee
Butter Brezen or cream cheese Brezen
Sandwiches
Buns with seasonal spreads
Sticks and Dips (vegetable sticks with two kind of dips)
Different cake slices (only in the afternoon)
Break with fruits (fresh sliced fruits)
Dinner (3 course menu with main dishes to choose from) incl. a 0.4 l beverage per person